[LIB2541] - As the library grew, the need for a new building arose and by the turn of the 20th century, plans were in place. The Decatur Public Library Building, located at 457 N. Main, was built at a cost of $65,000. A grant from Andrew Carnegie paid for most of it. The cornerstone was laid on June 16, 1902, and the building was opened to the public on July 1, 1903.
By 1970, the library was in need of a larger facility and obtained the building on 247 E. North Street which had recently been vacated by Sears. This building served until 1999, when the library moved to its current location on 130 N. North Franklin Street. [
From the website
]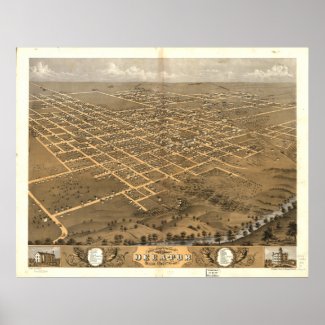 Decatur Illinois 1869 Antique Panoramic Map
by
terraprints_classic
Begin
selling my paintings
online at Zazzle.